The event review screen displays the full details of an event. Access this dialog by clicking on an event's subject from the calendar display.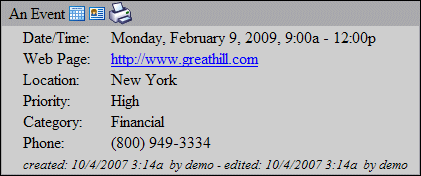 If the user has edit permission on the event the edit icon (

) and delete icon (

) will also appear on this dialog. You will also see the printer icon (

) which will format the event for easier printing. You may also see the event download icon (

) and, if the event contains contact information the contact download icon (
). If you click on these icons the program will download the item to your local PC.
You may see notes on this dialog as well. New notes may be attached, edited or removed from the event review dialog. Please see the event note help file for more information. If the event is a repeating event with exceptions and you may see a 'remove exceptions...' link. Click this link to remove all exceptions for a repeating event.
The display of this screen is fully customizable using an event display string.